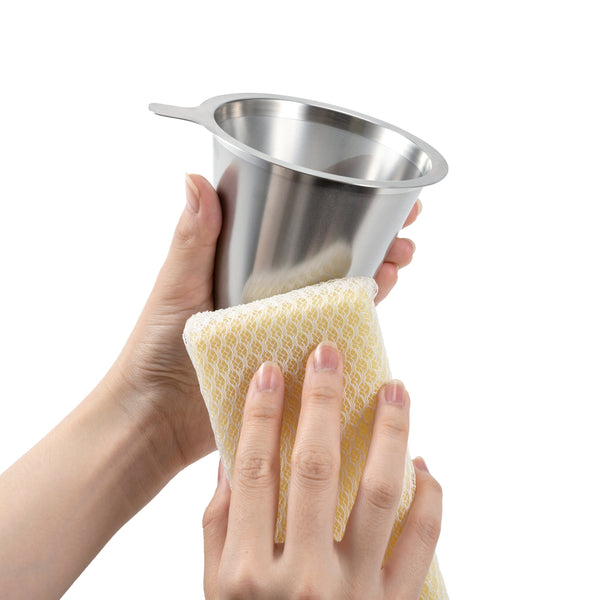 Hario has been making the best coffee brewing accessories for over 100 years. Tetsu Kasuya, the first Asian World Brewers Cup Champion and founder of Philocoffea, is their only official partner. Kasuya collaborated with Hario to create a next-generation double stainless steel dripper to create a superior coffee experience.

Click here to learn how to brew delicious coffee with the Kasuya Double Stainless Steel Dripper!
Why This Dripper is Special
In the old days, cloth filters were a popular way of preparing coffee in Japan. When used correctly, they resulted in superb coffee. However, the cloth would require careful cleaning and storage. Furthermore, it would eventually wear out and need replacing. Thus, Kasuya collaborated with Hario to create a modern replacement using state-of-the-art stainless steel construction. It produces the best aspects of the old-fashioned experience without any of the drawbacks.

You can learn more in this video.



Why You'll Love It
This dripper is designed to be used while holding it by hand or placing it on a server. But the recommended way to use it is still to extract while holding it by hand. The experience is quite similar to using a cloth drip. Experience the craftsmanship of carefully brewing coffee. For professionals, it's almost a sacred kind of handiwork. The joy of coffee is more than just drinking it—there is also great enjoyment to be had from the brewing process.

Tests by a research institute confirmed that the original goal of replicating the taste of cloth filter drips was achieved.
How It Works

Stainless steel material is used to extract the oil of the coffee.

By using a vertical shape like a flannel filter, the hot water does not fall down too quickly, and the ingredients of the coffee are extracted slowly.

The size and placement of the holes in the bottom are designed to prevent hot water from pooling in the second half of the extraction process when miscellaneous flavors tend to appear.

Great care was taken in the design. Kasuya and the Hario team found that if the holes are placed all over the surface, the hot water may drain out too quickly, or on the other hand, the hot water may accumulate. After many attempts, they arrived at the current design. By not having holes on all sides, they created a way for air to escape and prevent too much hot water from accumulating.

Thus, the mesh at the bottom is optimized to allow for better hot water drainage, resulting in a milder taste and clearer texture.
Specifications

Product Number: KDD-02-HSV

Size: 120 x 100 x 100 mm

Mouth Diameter: 90 mm

Weight (including the box): 200 g

Material: Stainless steel

Country of Manufacture: China
*When you check out, please be sure to enter your full name (not your initials) so that your purchase can be delivered without issues.