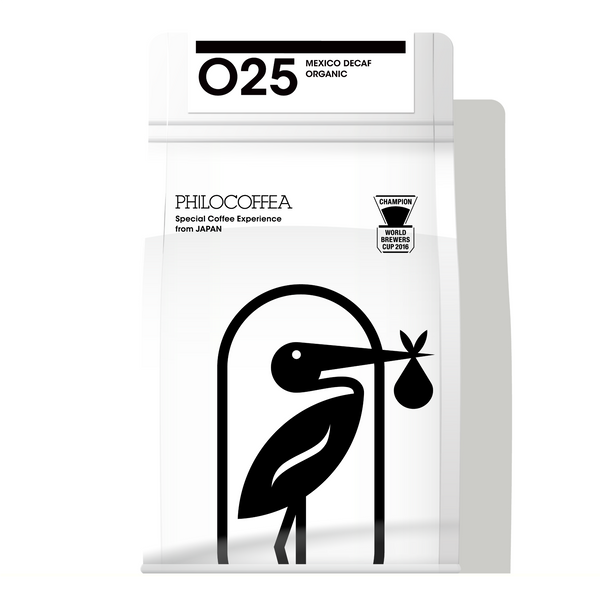 Is Delicious Decaffeinated Coffee Possible?
Many people avoid decaffeinated coffee because it smells like chemicals or has an artificial flavor. This is because select chemicals were used to remove the caffeine, and other ingredients besides caffeine were also lost.
Our Solution
We use Descamex's Mountain Water process to remove the caffeine. It has many organic certifications and is a safe decaffeination system without any chemical solvents. We are one of the few organic decaffeination plants in the world to produce a final product with a transparent production history of certified organic ingredients.
025 Mexico Decaffeinated Coffee (JAS Organic)
This time, we have decaffeinated coffee produced by 79 Product Conservación El Triunfo farms in Chiapas, Mexico. This will be a new organic JAS (Japan Agricultural Standard) certified decaf coffee with a clean liquid quality and a long aftertaste typical of Mexico.
When the coffee is warm, it has a pleasant, nutty flavor, and as the temperature drops, it turns into a smooth, sweet coffee, like milk chocolate. It's so good that you don't even realize it's decaffeinated coffee. 
Our Process
The raw materials are stored in a compartmentalized area to avoid contact with other coffees.

The caffeine content is measured in advance, in units of 5,000 kg, in preparation for extraction.

The equipment, including the decaf production tank, is air and steam cleaned to ensure that it does not contact other coffee.

The coffee is fed into the first tank and sprayed with a steam jet under controlled temperature and pressure.

Deeply watered in warm water to promote caffeine extraction.

We remove the caffeine by transferring it to a saturated water volume. At this time, the pressure is set under specific conditions.

The coffee is dried to 11–12% moisture for packing and export.
Beans
Producer: El Triunfo Environmental Conservation Organization

Area: Chiapas, Mexico

Decaffeination: Mountain Water Process

Decaffeination Rate: 99.9%

Certification: JAS Organic

Taste: Sweet potato, milk chocolate, nuts
* Note: When you check out, please be sure to enter your full name (not your initials) so that your purchase can be delivered without issues.