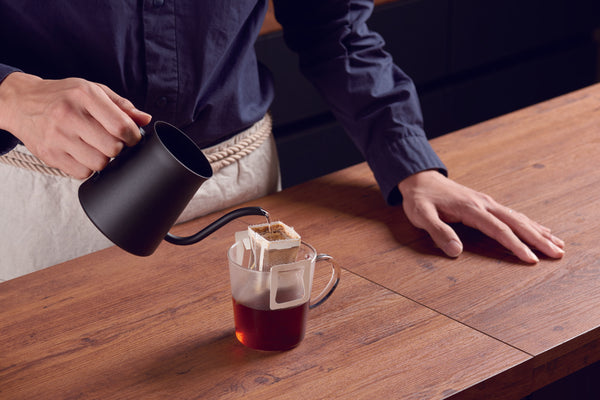 Produced by Tetsu Kasuya, Philocoffea Founder/Owner, first Asian World Brewers Cup World Champion, and Hario official partner.
Product Details
Material: Stainless steel

Dimensions: 165mm (width) x 90 (depth) x 100mm (height) x 70mm (diameter)

Capacity: 300 ml

Caution: Do not use in dishwasher or microwave oven

Origin: Made in China

Attachment: Manual
Our team of experts spent a long time painstakingly designing the ultimate mini drip kettle to make it easier to brew a small number of drips or drip bags for one or two cups. We were very particular about this product's size, weight, and pourability.

This collaboration with the acclaimed manufacturer, Hario, resulted in a kettle ideal for anyone new to hand-dripping. That said, heavy users who brew coffee daily will also find it incredibly satisfying.
Usage
This kettle is designed for use with hot water.

It cannot be used with direct heat or IH heat sources.

If you transfer the boiled water to this kettle, it will reach about 90 degrees Celsius, which is just right.
Producer Profile
Tetsu Kasuya

World Brewers Cup 2016 Champion (first Asian)

Japan Brewers Cup 2015 Champion

Japan Aeropress Championship 2015 Champion

tetsukasuya.com
*When you check out, please be sure to enter your full name (not your initials) so that your purchase can be delivered without issues.