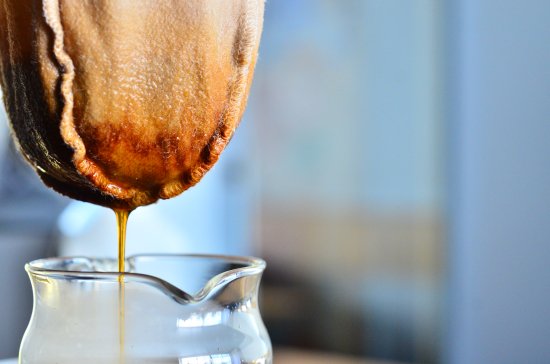 It took us a while, but we have finally released this product. To create this flannel filter, our founder, Tetsu Kasuya, reviewed everything from scratch, including the material, weave, and shape.
The final product reflects Tetsu's great love for flannel drip coffee. It produces a unique mouthfeel, sweetness, and flavor. Flannel filters are particularly suited to specialty dark-roasted and light roast coffees.
We made two types of flannel filters using organic cotton from Avanti, which produces organic cotton in Japan. The softer one uses organic cotton. The stiffer version mixes cotton scraps to create a more waste-free combination.
The resulting flavors differ because of their weaves and materials. Choose and use them according to your taste and mood. The softer material has a thicker texture and emphasizes sweetness. The harder material tends to produce a cleaner, more refreshing drink.
Here's a demonstration of how to use the two different flannel filters by our Founder, Tetsu Kasuya:
Note: The video is in Japanese, but you can click the "CC" button to see closed captions. Then, click the cogwheel and select "auto-translate" to see them in English.
It will give you a new taste that you can't create with a paper filter. The storage method is cumbersome, but making your own unique flannel filter coffee is fun. We hope you will take this opportunity to experience Japan's world-class flannel drip culture.
Usage
When using the filter for the first time, it is recommended to run the water through the filter with boiling water.

Before use, thoroughly rinse the cup in boiling water.

After use, rinse well inside out, soak in water and freeze. It can also be refrigerated (daily water changes recommended).

No detergent is allowed.

It is recommended to boil it once in a while.

It is time to replace when the fabric is damaged.
The Experience
Many people think that flannel drip looks difficult. However, once you try brewing it, you'll find that it's actually not so difficult — it's just time-consuming. The time you spend carefully brewing coffee already makes the coffee taste better. You'll feel like a pro!
If you are happy with the process and the time you spend tasting it, then the coffee is right. Coffee that is carefully brewed in a traditional coffee shop, one cup at a time, is already delicious even before you drink it. We hope you will experience that feeling.
You don't have to stick to our brewing methods. Take your time and discover your own unique way of brewing a delicious cup.